VERHOEF DELIVERS RETROFIT FREEFALL LIFEBOATS
with the MOST COST EFFECTIVE SOLUTION currently available for the offshore
Verhoef designs and fabricates their ALUMINIUM freefall lifeboats  in accordance with the dimensions of the existing cradle
There is no need for an additional frame to fit on existing cradle
As aluminium is lighter than GRP also the existing winches can be re-used
The freefall lifeboats are designed according the latest Standards, such as DNV-OS-E406, but also Clients specific requirements can be applied.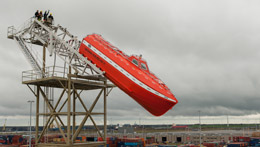 RETROFIT LIFEBOATS: FL50-ULS-WC
Verhoef has successfully delivered 6 RETROFIT aluminium freefall liboats - 46p / 100 kg to a British Oil Platform.
All 6 FFLB's were drop tested from Verhoef's test tower before their delivery to the platform. The tests were witnessed by representatives from HSE/ABS and the client.