Freefall Lifeboats
designed and manufactured according latest LSA/SOLAS and DNV-OS-E406
| | | | | | | | | |
| --- | --- | --- | --- | --- | --- | --- | --- | --- |
|  Type |  Length |  Width | Capacity Range as per DNV |  Empty Boat weight* |  Loaded boat weight |  Drop height from bow |  Cradle  weight |  Equipment weight FFLB & Cradle system |
| FL50-NS* | 11.25 m. | 3.50 m. | 25-32 | 9.200 kg | 12.400 kg | 30.00 m. |  20.000 kg |  29.200 kg  |
| FL50 | 11.25 m. |  3.40 m.  | 25-38 | 7.000 kg | 10.200 kg  | 30.00 m. |  8.200 kg  |  15.200 kg  |
| FL50-EL | 13.00 m. |  3.40 m.  | 39-50 | 8.000 kg | 13.000 kg  |  30.00 m.  |  10.000 kg  |  18.000 kg  |
| FL60 | 13.50 m. | 4.00 m. | 32-50 | 15.000 kg | 20.000 kg | 40.00 m. | 20.000 kg | 35.000 kg |
| FL75 | 15.00 m. | 4.25 m. | 50-70 | 16.000 kg |  23.000 kg  |  40.00 m.  | 23.000 kg |  39.000 kg  |
| FL75-NS* | 16.00 m. | 4.25 m. | 50-70 | 19.000 kg | 26.000 kg | 40.00 m. | 23.000 kg | 42.000 kg |
| FL100-NS* | 18.00 m. | 4.25 m. | 71-84 | 22.000 kg | 30.400 kg | 40.00 m.  | 25.000 kg | 47.000 kg |
Specifications and data may change without prior notice, due to continuous product development and research. 
Note: loaded boat weight with max number of persons - 100 kgs each - seat dimensions per DNV.
*) NS-types comply with Norwegian Standard DNV-OS-E406.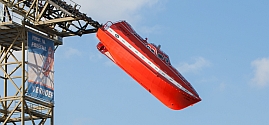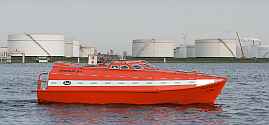 If required, designs can be adapted to Clients Requirements. Verhoef can also deliver 'Retrofits', which means that new FFLB's, as per latest Authority requirements, can be mounted into existing cradles.